⚫ Features Of This Amazing UFO Bouncing Ball.
✅ UFO Ball is a unique, soft plastic, flexible material with a cool neon finish, which provides a comfortable grip for active play.
✅  Suitable for home, garden, beach and other places to play with family, friends, even your pet.                                                                                                                        
✅ Cool dynamic light sensor, you can play happily at night, there will be colorful lights when external force is applied, even more cool when you press or catch the ball.                                                                                                                                          
✅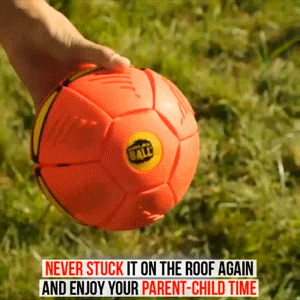 The soft rubber material is not easy to damage and can be switched freely between the two forms.                                                                                                                
✅ One ball & Multiple play ways exercises children's athletic ability and makes their childhood colorful .                                                                                                                 
✅ Its variable time-delay feature provides a surprise transformation which adds fun to gameplay or just having a catch Great for child playmate, you can Go hand in hand with your friends, brothers and parents, enjoy your parent-child time!                                    
✅ Rich colors and diverse styles to meet your liking for colors, clever internal structure, upgrade large suction cups, clever nuts to increase the weight of the ball, improve the feel .                                                                                                                
✅Made of soft plastic and 100% of ECO friendly materials even durable and not easy to damage.                                                                                                                          
✅  Great gifts for kids, friends, and pets. An interesting outdoor play toy for kids, improve the their reaction capacity, hands and feet coordination ability and creation ability.                                                                                                                                    
✅ Applicable age: Unlimited, both adults and children can play.